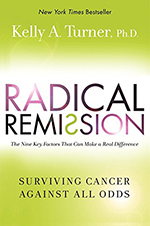 Radical Remission. The Nine Key Factors That Can Make a Real Difference by Dr. Kelly Turner, Ph.D. This is a MUST read! As a researcher, lecturer, and counselor in integrative oncology, Dr. Turner who specializes in integrative oncology, gives the results of Radical Remission–people who have defied a serious or even terminal cancer diagnosis with a complete reversal of the disease. The results of this 10 year study, include astounding insights of the nine key factors that Dr. Turner found among nearly every Radical Remission survivor she has studied and an explanation of how the reader can put these practices to work in his or her own life.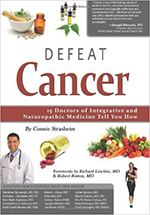 Defeat Cancer 15 Doctors of Integrative & Naturopathic Medicine Tell You How by Connie Strasheim, Richard Linchitz MD and Robert Rowen MD: All aspects of treatment are covered. This book offers unique insights into healing, such as the pros and cons of different treatments and how to intelligently use chemotherapy. It discusses patient and practitioner challenges to healing, factors that affect healing, treatment outcomes and to effectively combine multiple medical strategies to obtain the best results. It also offers helpful insights to the friends and families of those coping with cancer.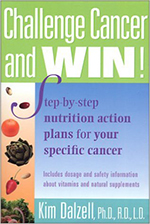 Challenge Cancer and Win! Step-by-Step Nutrition Action Plans For Your Specific Cancer by Kim Dalzell: This book has easy to follow action plans for many kinds of cancer, including bladder, breast, colorectal, digestive tract, gynecological, leukemia, lung melanoma, non-Hodgkin's lymphoma, pancreatic and prostate cancer. A generalized plan is given for cancer prevention too! Easy to read food charts and self-help diet assessment tools help readers to plan, shop and prepare healthy meals. Safe juicing and detoxification programs are included, as well as detailed guidance about nutritional supplements and their most effective dosages.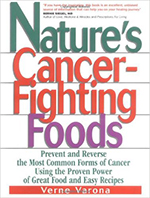 Nature's Cancer-Fighting Foods. Prevent an d Reverse the Most Common Forms of Cancer Using the Proven Power of Great Food and Easy Recipes by Verne Varona: Backed by the testimony of prominent physicians and inspiring case histories, Verona explains what kind of nourishment works best to enhance immunity and restore vitality—without sacrificing enjoyment of food.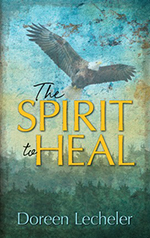 The Spirit to Heal by Doreen Lecheler: For over 26 years Doreen has helped individuals and organizations turn potential into performance – not realizing one day she'd be using these methods in the fight for her life. She is a stage 4 breast cancer survivor.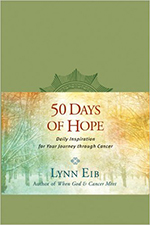 50 Days of Hope:Daily Inspiration for your journey through cancer by Lynn Eib: As a longtime cancer survivor, Lynn Eib knows firsthand how that feels. And as a patient advocate helping thousands facing cancer, she also knows what gives people hope. In 50 Days of Hope, Lynn shares amazing, true stories of those who have been in your shoes and discovered that when God and cancer meet, hope is never far away.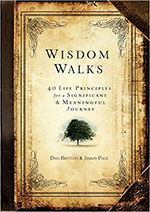 Wisdom Walks by Jimmy Page and Dan Britton: Is a real-life guide for walking purposefully with God and living the life of significance you were created for. Forty intentional, spiritual, life-changing connections will transform the way you think and do life.  www.wisdomwalks.com